Concert Mozart – 5 mai 2018
Concert Mozart – 5 mai 2018
Samedi 5 mai dernier, à 20h, le chœur de l'ULB a présenté son concert Mozart dans la salle gothique de l'Hôtel de Ville de Bruxelles. Au programme, six Nocturnes, un extrait du Thamos et Davidde Penitente.

Direction : Thierry Vallier
Piano : Noemi Biro
Solistes : Wu Chia-Fen, Reisha Adams, William Helliwell, Yu-Hsiang Hsieh
Présentation par le chef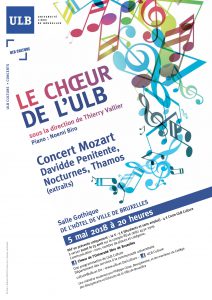 « Les Notturni ou Nocturnes sont des pièces brèves pour petit ensemble vocal ou trois solistes et trois cors de basset, composées pour un contexte familial et amical, sur des poèmes de Métastase. Leur édition fut posthume. On les a datés approximativement de 1786, c'est-à-dire qu'ils seraient contemporains des Nozze di Figaro. Ce sont de petits bijoux de charme et d'intimité et de simplicité toute mozartienne.
La composition de la musique d'accompagnement du drame héroïque Thamos, König in Aegypten, d'inspiration clairement maçonnique, a été commencée en 1773. c'était une commande du baron Tobias-Philipp von Gebler, franc-maçon à Vienne et auteur de la pièce. Mozart ne fut sollicité qu'en dernier recours, après plusieurs refus successifs, dont celui de Gluck. Il est à noter qu'à cette époque, Mozart n'était pas encore maçon. Il entama la composition avec passion, mais ne la terminera qu'en 1779. La trame de la pièce de Gebler est singulièrement analogue à celle de la Flûte Enchantée de 1791. Le grand intérêt que Mozart portait à Thamos en est très certainement la genèse.
L'oratorio Davidde penitente fut créé en mars 1785. Il donne quant à lui des indices sur les rapports que Mozart entretenait avec la musique d'Église. Il est notoire qu'il n'en composait que quand il le fallait. Il avait depuis deux ans dans ses cartons une grande messe inachevée, la fameuse messe en ut, dont il était certainement conscient de l'immense valeur, quand une commande lui est passée par la société des concerts de Vienne. Visiblement pressé, il demande vraisemblablement à Lorenzo Da Ponte, son librettiste favori des Nozze di Figaro, de Don Giovanni et de Così fan tutte, de lui écrire un texte sur le repentir du roi David après ses ébats illicites avec Bethsabée. Mozart fit alors coller tant bien que mal ce texte sur la musique de sa messe, et compléta le tout avec deux airs originaux, les numéros 6 et 8. La messe en ut était destinée à Salzbourg et il n'est pas certain qu'elle y ait été jouée. Mozart a certainement vu dans cette commande une excellente occasion de faire jouer cette musique sublime à Vienne, et nous, de nous en régaler dans un cadre cette fois achevé. »
Thierry Vallier
Photos
Photos : Thomas Royberghs
Biographies des solistes
Wu Chia-Fen – Soprano 1
Born in Taiwan, Chia-Fen, Wu, obtained her Bachelor and Master of Music at National Taipei University of the Arts, and received PGDip, Singer with distinction from Royal College of Music, London. In 2004, she joined Flanders Opera Studio in Gent, and continues her P.H.D. studies of Musicologist at I.P.E.M. in university Gent. Since 2010 she becomes the resident chorus member of Flanders Opera.
Chia-Fen Wu has awarded "Arising Star Singer Award" from 2001 World Chinese Singing Contest, Winner of "Taipei Philharmonic Arising Star Festival" 2000, and First Price of National Taiwan Music Competition in Vocal Singing 1999. Chia-Fen begins her career with Taipei Philharmonic Foundation and Chamber Choir by singing soloist, recitals, oratorios, operas, and musical performances. She also gives recitals for early music and song repertoire regularly.
Chia-Fen has appeared in numerous performances including Mozart's Requiem, Vesperae solennes de confessore, Mass in D Major (K194), Litaniae Lauretanae(K195) and Coronation Mass; Schubert Mass in G Major; Bruch Die schöne Ellen; Faure Requiem and Mahler Symphony No.4.
On stage, her opera roles include:La Virtu(L'incoronazione di Poppea), Gretel(Hansel and Gretel), Frau Herz(Der Schauspieldirektor), Queen of Night(Die Zauberflöte), Sussana(Le nozze di Figaro) Lucia(Lucia di Lammermoor), Gilda(Rigoletto) and Violetta(La traviata), Delia(Il viaggio a Reims)
Before joining Flanders Opera, Chia-Fen has worked with Vlaams Radio Orkest, l'Orchestre Symphonique Donhanyi de Budapest, National Taiwan Symphony Orchestra, Taipei City Symphony Orchestra, Kaohsiaung City Symphony Orchestra, Camerata con Corde (Brussel) and Taipei Philharmonic Festival Orchestra, and under conductors Gabor Hollerung, Chiu-Shen Chen, Pietro Rizzo and etc. She also attended master classes of Dame Margaret Price, Roger Vignoles, Graham Johnson, Irwin Gage, William Fred Scott, Gustav Kuhn and Anthea Moller, Greta de Reijghere in Taiwan, Belgium, Great Britain and USA.
Since 2011, Chia-Fen starts her children-education program of opera music together with Jeugd & muziek Gent and Flanders opera, and created « Het fantom van de opera en zijm vriendjes », « Prinses Aiko ».
Reisha Adams – Soprano 2
Reisha Adams is a graduate of the National Opera Studio in London and Opera Course at the Royal Welsh College of Music and Drama. She was the winner of the inaugural Ian Stoutzker Prize for outstanding musicianship in July 2012, awarded a Silver Medal from the Worshipful Company of Musicians for excellence in performance in November 2012 and a semi-finalist in the 2011 Mozart Singing Competition.
Highlights in recent seasons include her debut as Pamina The Magic Flute in Simon McBurney's production for English National Opera, Opera Highlights Tour for Scottish Opera and Lady Macbeth Macbeth for Kentish Opera.
Operatic roles include Micaëla Carmen Riverside Opera; Armida (cover) Rinaldo (Glyndebourne Festival Opera); Romilda (cover) Xerxes and Countess Almaviva (cover) Marriage of Figaro (English National Opera); Gretel Hansel and Gretel (Wandsworth Fringe); Countess Almaviva Le nozze di Figaro, Rosalinde Die Fledermaus, Donna ElviraDon Giovanni, and Alms Sister and Suor Genovieffa(cover) Suor Angelica (RWCMD); and Despina Così fan tutte (Opera'r Ddraig). She has also performed excerpts from Idomeneo, Don Giovanni, Dead Man Walking, Jane Eyre, La bohème, Orfeo ed Euridice, Street Scene, Albert Herring, Turn of the Screw and The Rape of Lucretia.
A keen recitalist, Reisha has perform extensively on Yehudi Menuhin's Live Music Now scheme, as a soloist at the Leeds Lieder Festival and at Sir William Walton's home in Ischia, to celebrate the life of Lady Walton. She has performed at venues including Birmingham Symphony Hall, Bridgewater Hall, Wales Millennium Centre, the Royal Albert Hall and Wigmore Hall.
In masterclasses Reisha has appeared with John Fisher, Dame Anne Evans, Susan Bullock, Natalie Dessay, Sarah Walker at the Chelsea Schubert Festival, Mark Padmore at Wigmore Hall and Bengt Forsberg at BBC Cardiff Singer of the World.
William Helliwell – Ténor
William Helliwell graduated from the MA Opera Performance course at the Royal Welsh College of Music in 2012. Whilst there he was awarded the Monmouth Choral Society Prize, the Manning Singing Prize for three consecutive years and was a finalist in the Russell Sheppard Memorial Competition. He successfully auditioned for Live Music Now in April 2011, established by Ian Stoutzker and Yehudi Menuhin.
William has been a permanent tenor in the Opera Vlaanderen chorus since 2014. With the company he has performed several solo roles, most notably the role of Simias in their production of Die König Kandaules.
Prior to this he worked with various companies including Grange Park Opera singing chorus in both Peter Grimes and Queen of Spades; OperaUpClose as Eisenstein in Die Fledermaus and toured with Opera Lyrica performing one to a part chorus in Acis and Galitea. Earlier in 2013 he worked with Welsh National Opera on their production of Wagner Dream performing the roles of Monk and Pit Chorus and covering the roles of Mosquito and Cockerel in The Cunning Little Vixen.
Yu-Hsiang Hsieh – Baryton Basse
Né à Taiwan, Yu-Hsiang Hsieh reçoit une éducation musicale à la Taipei National University of Arts, au Royal College of Music de Londres, et au Flanders Operastudio à Gand.
Yu-Hsiang est apparu dans de nombreuses prestations d'oeuvres, telles que les Hymnes du Couronnement de Haendel, Le Requiem et la Messe du Couronnement de Mozart, la Messe en sol Majeur de Schubert, La Cantate Die Schöne Ellen de Bruch, Liebeslieder Walzer opus 52 de Brahms, Messe en sol Mineur de Bellini, l'Oratorio de Noël de Saint-Saëns, la Petite Messe Solennelle de Rossini, le Gloria de Puccini,etc…
Sur scène, il a pu interpréter les rôles de Arkel dans Pélleas et Mélisande, Nick Shadow et Truelove dans The Rake's Progress, Der Tod dans Der Kaiser von Atlantis, Caronte et Tirsi dans l'Euridice de Caccini, Don Alfonso dans Cosi fan tutte, Peter dans Hänsel und Gretel, Judge dans Sweeney Todd, Don Basilio dans Il Barbiere di Siviglia, et des rôles principaux tels que Gianni Schicchi, Don Pasquale et Figaro.
Yu-Hsiang reçu le prix de premier lauréat au concours Taipei Philarmonic Rising Star Festival en 2000. Depuis, il a pu participer à différentes masterclasses avec des personnalités tels que Graham Johnson, Helmut Deutsch, Sarah Walker, Robert White, Ann Murray, Anthea Moller, Richard van Allen, Stephen Roberts et Gustav Kuhn.
Depuis 2007, il est regulièrement employé au Théâtre Royal de la Monnaie, au Vlaamse Opera et Vlaamse Radio Koor.